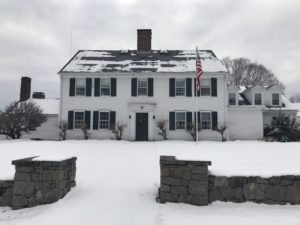 The free Family Snow Day planned for this weekend at the Patton Homestead won't let the lack of snow hold it back and is switching gears.
Since it looks like there probably won't be snow on Saturday, Feb. 24 – the ground is nearly bare right now and the weather forecast calls for temperatures into the 60s without any snowstorm in sight – the event will focus on all the other outdoor activities that are possible on the property.
All of the trails at the Patton Homestead will be open for hiking and families can get outside and experience nature and the beauty of the property. The Patton Homestead is bordered by Audubon and Greenbelt land as well.
"After a long winter, it will be great to get the kids outside and explore," said Leandra DeFeo, one of the event organizers.
The event will run from noon to 4 p.m. on Saturday, Feb. 24 at the Patton Homestead, 650 Asbury St. in Hamilton.
The Whoo(pie) Wagon will be there and organizers will also provide marshmallows and sticks to roast on two open fires.
Questions? Call 978-233-1613 or email leandra@bevaraweb.com.