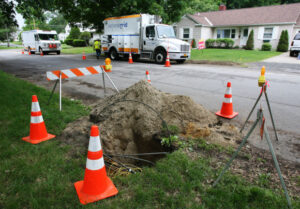 National Grid plans infrastructure upgrades to its natural gas system in a Hamilton neighborhood this week.
The company will be doing work on Walnut Road, Fairfield Drive, and Walnut Lane to upgrade gas main and services starting on Monday, Oct. 19, and last until Friday, Nov. 6. Each day, construction will last from 7 a.m.-3 p.m.
During construction, work will include marking out underground utilities, excavation of the street, laying of new gas main, and temporary or permanent restoration of disturbed areas in accordance with the town ordinance.
A representative from National Grid or the contractor crew will reach out to the affected homes and businesses at least 24-48 hours in advance of the work. Every National Grid employee and contractor are required to carry an ID. For the crew to connect residential and commercial gas service to the new main, National Grid workers will need access to the building and appliances. Typical service line work takes one business day when customers will experience a temporary interruption of natural gas service. When the work is complete, a gas technician will be dispatched to turn on the gas meter and relight gas appliances.