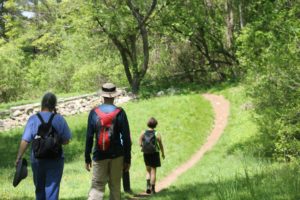 Memorial Day weekend is the unofficial beginning-of-summer weekend and the Hamilton Board of Health encourages residents and their family to get outdoors and take advantage of the predicted good weather.
Hamilton residents are blessed with plenty of outdoor recreational and hiking venues right here in town and all of the following are open to enjoy:
Please be considerate of fellow residents by staying at least 6 feet away from everyone (except household members) and, if you cannot, you must wear a face mask. Please have a face mask or face cover with you at all times just in case.  As always, remember these precautions against mosquitos and ticks:
Wear light-colored clothing conducive to seeing a tick
Spray insect repellent on clothing and shoes
Wear long pants and closed-toed shoes; ticks crawl upwards and climb onto clothing when a person brushes up against long grasses, a tree, or bush
Check yourself and pets for ticks after being in grassy and wooded areas
Wear sunscreen or sun-protective clothing
Take a shower or bath after you have been outside to wash off any ticks and bug spray and sunscreen
During the coming weeks, the Town of Wenham is reopening some of its recreational facilities and the Hamilton Board of Health will be working with Hamilton town officials to start reopening some of the facilities at our favorite venues such as Patton Park – stay tuned!