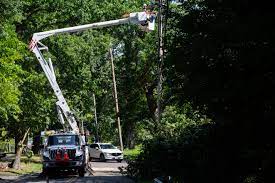 National Grid reports that the company is monitoring the remnants of Hurricane Ida that entered the Hamilton area on Wednesday afternoon with heavy rain, high winds, and the potential for flash floods.
The company's internal crews are prepared and ready to respond to any damage that might occur across the North Shore. National Grid will continue to monitor the forecast throughout the day and communicate any change to the current preparedness plan.
The company also issued a reminder about its bucket truck operations: Wind speeds in excess of 35 mph will limit the ability of repair crews to safely operate at elevated heights. National Grid asks for understanding, patience, and partnership while crews safely.
Hamilton residents and businesses are asked to report all outages to the Customer Service or Outage Reporting hotlines, listed below. Every phone call received is logged into National Grid's outage tracking system and better enables the utility to pinpoint the location of the issue. The sooner that National Grid can identify the location of the issue, the quicker that repair can respond. The company will continue to monitor this storm and will issue updates with any plan changes.
Electric Customer Service: (800) 322-3223
Outage Reporting Hotline: (800) 465-1212
Natural Gas Customer Service: (800) 640-1595
Follow National Grid for up-to-the-minute storm and outage updates on Twitter: @nationalgridus