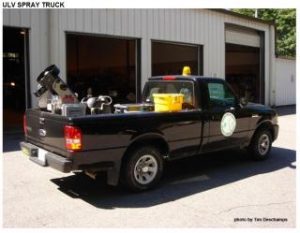 Hamilton residents need to submit a pesticide exclusion form to the state each year if they wish to exclude their property from truck spraying for mosquitos.
The reminder comes from the Hamilton Board of Health and Health Agent Leslie Whelan, who want residents to know they need to renew their annual pesticide exclusion form if they wish to omit their property from potential truck spraying for adult mosquitoes in the coming year.
Though the Board of Health has not used adulticide against mosquitoes in several years, it's always possible that an outbreak of Eastern equine encephalitis (EEE) could result in a decision to request the Northeast Massachusetts Mosquito Control District spray adulticide against adult mosquitoes.
The form can be found on the Board of Health's webpage, under Mosquitoes
                                                                               or at this link: https://www.mass.gov/doc/exclusion-request-form/download⇒