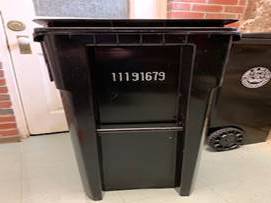 Enforcement of Hamilton's required organic waste program will start on May 5.
Last year, the Hamilton Board of Selectmen passed an organics ban that does not allow food waste and compostable paper in the trash. The program requires every household to have their green organics bin curbside each week. Under the revised program, any "Town of Hamilton" black official barrel that is not accompanied by a green compost bin will result in your trash being left and uncollected.
This ban started on Feb. 1, and warning stickers were first handed out on March 31.
If your trash pickup area involves several families, please mark your trash and compost bins with your house number.
In April 2012, a green compost bin and countertop collector were provided to every household in Hamilton. If your household currently does not have a green compost bin, you can request a new one from the DPW office at Town Hall.
If you are an active backyard composter, you may apply to the DPW for an exemption from the ban. If approved, a sticker will go on the black bin to signify to Casella that the black barrel should be pickup up even though a green bin is not curbside.
Casella has new trash trucks with an automated arm. Place your barrel 2 feet from the curb with the cart bar facing the street for collection. Please have your other receptacles at least 2 feet away from your town-issued barrel to ensure there are no obstructions.