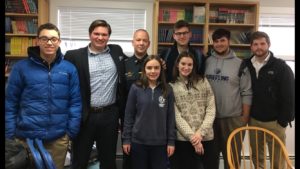 Hamilton Police Chief Russell Stevens recently spent some time speaking with senior students at the Landmark School in Beverly.
He discussed community policing and good citizenship during his visit on on Tuesday, April 3.
Stevens has addressed students at Landmark for the past several years at the request of longtime Landmark educator, Paula Brand, wife of Hamilton Deputy Fire Chief Kenneth Brand.
"This is a tremendous opportunity for myself as a police officer and I truly enjoy the interactions between the students and myself," Stevens said.