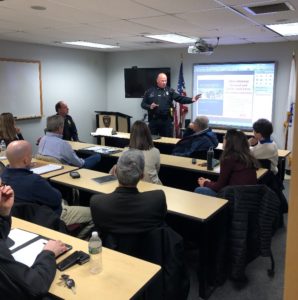 Hamilton police have begun an education effort to show the effectiveness of proactively handling the threat of an aggressive intruder or active shooter event, versus a traditional lockdown.
Lt. Scott Janes and Officer Kent Richards of the Hamilton Police Department recently addressed a group of Hamilton constituents about the A.L.I.C.E. program. A.L.I.C.E., which stands for Alert, Lockdown, Inform, Counter and Evacuate, is a trainer instructor-led class that provides preparation and a plan for individuals and organizations about how to more proactively handle the threat of an aggressive intruder or active shooter event.
Richards (standing) and Janes (sitting to the left in the front of the room) are seen in the accompanying photo during a recent presentation.
Whether it is an attack by an individual person or by an international group of professionals intent on conveying a political message through violence, A.L.I.C.E. training option based tactics have become the accepted response, versus the traditional "lockdown-only" approach.
"Protection and safety must be the priority in an active shooter event or terrorist attack," according to Hamilton Police Chief Russ Stevens.
Circumstantial and operational concerns vary in every new situation and A.L..I.C.E. training provides options and classes that address the unique challenges specific to police and law enforcement, elementary and secondary schools, healthcare facilities, higher education institutions, businesses, government offices and houses of worship.
Stevens encourages all of the organizations in Hamilton to take a serious look at the A.L.I.C.E. program to provide schools and businesses an alternative to the typical "lockdown procedures" that are typically employed.