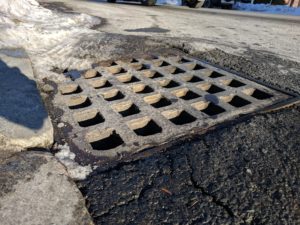 Hamilton officials want to remind residents to prepare for the heavy rain forecasted for Friday, which will fall on top of a solid snowpack.
The Hamilton DPW is looking for cooperation from residents to clear snow and other debris off the top of storm drains and catch basins near their home, said Hamilton DPW Director Tim Olson.
The predicted rain this weekend will cause flooding if catch basins and storm drains are clogged with snow and the DPW greatly appreciates the community's efforts, he said.
Residents should also make sure that water can get away from their house, said Hamilton Fire Chief Phil Stevens. That should include making sure that drains and gutters are clear.
In homes with with pumps, residents should make sure the discharges aren't blocked or frozen, Stevens said.
The Massachusetts Emergency Management Agency issued a situation awareness statement on Thursday morning that said the "multi-impact rain event" on Friday into Saturday will bring heavy rain on Friday afternoon and evening that will continue into Saturday morning. The total rainfall from the storm will be 2 to 3 inches with the possibility of up to 4 inches.
The heavy rain combined with rapid snow melt means the possibility of some river and stream flooding and the potential for isolated ice jam flooding on rivers.
MEMA also warns about the possibility of street flooding caused by snow-clogged storm drains, which can be avoid by following Olson and Stevens' suggestions.