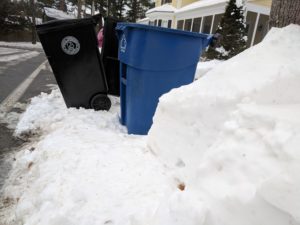 The approaching snowstorm has forced the usual trash pickup schedule in Hamilton to be revised for this week, according to Tim Olson, Director of Public Works.
Trash, recycling and organics collection will happen on its regular schedule on Wednesday, March 7. But on Thursday, March 8, pickup of trash, recycling and organics will be delayed to Friday, March 9.
Regular pickup on Friday, March 9 will in turn be delayed to Saturday, March 10.