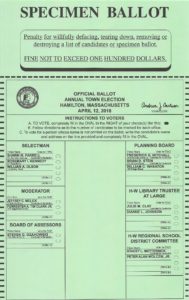 Voters can take a look at the Hamilton Town Election Specimen Ballot now, more than two weeks before they go into the voting booth to cast their ballot.
Town Clerk Andrea Carlson released a specimen ballot for the election, which is scheduled for Thursday, April 12 from 7 a.m. to 8 p.m. at the Recreation Center gymnasium.
There are contested races for two seats on the Board of Selectmen, two seats on the Planning Board and one Moderator. Voters will also have a chance to cast a vote for Hamilton-Wenham Regional School District School Committee, Hamilton-Wenham Library Trustee and Board of Assessors.
Voters that can't make it to the polls on April 12 can vote absentee now.