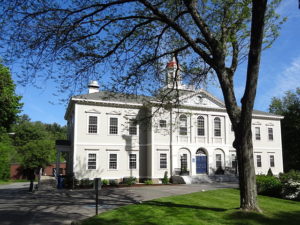 Due to a rapid increase in the number of COVID-19 cases in our community, Town Manager Joseph Domelowicz has announced that beginning Monday, Jan. 11, town offices will be closed to the public, except by appointment only.
The move to close Hamilton Town Hall, Senior Center, and Recreation Center is also a precautionary step to keep town residents and staff safe, Domelowicz said.
The town will remain in this operating mode until a determination that COVID cases are decreasing across the community, and offices can be re-opened safely.
Residents are encouraged to conduct their business with the town through the town website at www.hamiltonma.gov or by calling the department they need to reach. If you have business that must be conducted in-person, we ask that you contact the department by phone to make an appointment. Please relay the business you wish to manage, so that staff can make your visit as quick and efficient as possible when you arrive.
COVID-19 vaccines are approved but not yet in wide distribution. The next several weeks and months will be critical to the way our town survives this pandemic. Please be safe, practice social distancing guidance when you have to be out of your home, and always wear a mask when in public. Help us keep you and your loved ones, and ours, safe during this difficult time.
Thank you for your cooperation.