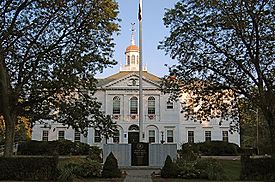 Hamilton Town Hall is closed for business today, Thursday, Oct. 17.
There are multiple power lines down, road closures and wide spread power outages and there is no timetable for when power will be restored, so the town offices will not be able to open, according to Town Manager Joseph Domelowicz Jr..
If power is able to be restored by mid-afternoon, Domelowicz said town leaders will make every effort to allow previously scheduled board and committee meetings to take place in the evening. Another status update about evening events will be issued when more information is available.