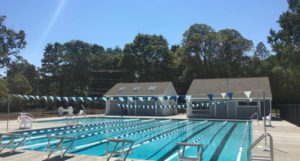 Hamilton Town Manager Joseph Domelowicz Jr. announced on Friday, June 12, the towns of Hamilton and Wenham made the difficult decision to close the Veterans Memorial Pool for the summer of 2020. The decision to keep it closed for the summer of 2020 was made after consultation with Wenham Town Administrator Anthony Ansaldi and discussion with both towns' Board of Selectmen.
COVID-19 already caused a delayed opening for the pool. The state released new regulations for public and semi-public swimming pools on June 6. After reviewing the regulations, the towns determined that there was no financially viable way to open the pool for the upcoming season and also satisfy state guidance.
"The Hamilton Wenham Recreation Department Staff worked extremely hard to develop a modified schedule that would be financially sustainable," explained Domelowicz. "Unfortunately, based on the guidelines from the state, all financial projections predicted that the pool would operate at a considerable deficit this summer. The pool's fixed and operational costs would be negatively affected by the state guidelines, which include strict attendance limitations, limits on time per visit, and social distancing requirements both in and out of the water."
Under state financing law, it is illegal to operate a revolving fund, such as the fund that pays for pool expenses, into a deficit.
"Nobody wants to have to close the pool down, but against the backdrop of the pandemic, the anticipated loss of people using the pool and the pool's expenses, there really is no other choice," added Ansaldi. "The bottom line is that we have to be able to project that the pool can earn enough revenue to cover its operating costs. With the restrictions on attendance and limits on the length of visits, we could not find a way to project a balanced budget."
The Hamilton-Wenham Veterans Memorial Pool joins other public pools across the state that will not open this summer due to the pandemic, including in Weston, Lexington, Belmont, among others.
"Please know that arriving at this conclusion was extremely difficult," said Domelowicz. "We do know that many people in our two communities look forward to having the pool during the summer. However, given the restrictions announced by the state, the experience would not have been the same this year, even if we had been able to open the pool. We are looking forward to reopening in the summer of 2021."