News & Announcements
The latest news happening in the Town of Hamilton, check below for timely updates.
View All
01
Jul 18, 2018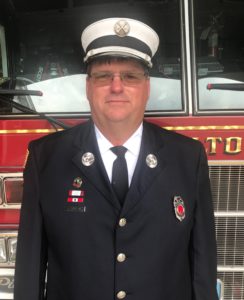 Hamilton Fire Capt. Raymond Brunet will become the Fire Department's Acting Fire Chief on Jan. 1, 2019. This vacancy comes after Chief Phil Stevens announced that he will retire, effective Dec. 31, 2018. The move is the result of a unanimous vote by the Board of Selectmen at its Monday, July 16 meeting. Fire Chief Phil Stevens and Police Chief Russ Stevens met with the Board of Selectman at the meeting to discuss a succession plan for the fire chief position. Both chiefs told the board the recommended Brunet to take over as acting chief based on several facts, including Brunet's more than 30 years experience in the Hamilton Fire Department, both in administration and firefighting. Chief Phil Stevens told Selectmen that Brunet lives in Hamilton, knows the residents and has the needed experience with a "call Fire Department." Brunet's appointment as Acting Fire Chief will be for six months to ensure it's the "right fit for everyone."
Jul 17, 2018
Hamilton Fire Captain to be promoted to Acting Chief
At last night's Hamilton's Board of Selectmen's meeting, the Board unanimously voted to place...