News & Announcements
The latest news happening in the Town of Hamilton, check below for timely updates.
View All
01
Dec 11, 2018
As we approach the holidays, I'd like to take a moment to wish all Hamilton residents and their families a Happy and Safe Holiday season and ask you to consider stopping by Town Hall this week to assist our Recreation Department in providing toys for children in the Hopewell Inc. program. Please see the attached information to learn how to participate this season. To assist us in this effort, a small paper tree is on display in the Memorial Room at Town Hall, with a dozen or so description of children who needs gifts and what they have asked for, but really any gift of a new, unwrapped toy can be put to use by Hopewell. The gifts will be picked up at Town hall by Dec. 17, so Thank you in advance for helping us with this worthy holiday toy drive." Town Manager Joseph Domelowicz Jr.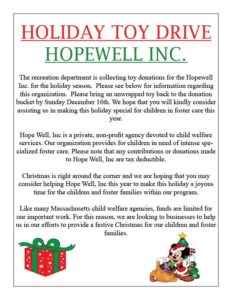 Nov 25, 2018
Fire Chief scheduled to retire at the end of December
After thirty seven years of service to the town and the last seventeen as...
Dec 10, 2018
Meeting on Downtown Hamilton Improvements
Please join us to discuss potential improvements and the beautification of Downtown Hamilton. This...