News & Announcements
The latest news happening in the Town of Hamilton, check below for timely updates.
View All
01
Sep 24, 2018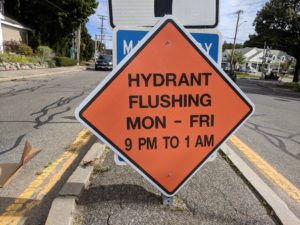 The Department of Public Works will start fire hydrant flushing on Monday night, Sept. 24 and do it weeknight for the next four weeks. The flushing will run from 8:30 p.m. through 1 a.m. from Monday, Sept. 24 through Thursday, Sept. 27. The work will begin near the Hamilton Water Treatment Plant in the Lake Drive area and move down outer Asbury Street and Highland Street during the first week. The second week crews plan to proceed up Asbury and Linden streets from Highland Street to Bay Road. Other areas outside the specific work areas may be affected during this effort. The DPW will continue to provide updates to Hamilton residents about the progress of the hydrant flushing via the town website and social media channels. The Monday through Thursday nightly schedule will continue for the next four weeks. To minimize discolored water in the system, the Water Department recommends water users refrain from utilizing water during the nightly flushing process. Prior to water use, it is recommend that residents run their cold water by turning on their outside spigots until the lines run clear, since discoloration is likely to occur. For more details or for questions, call 978-626-5226 during normal business hours. The DPW appreciates the patience from water users while conducting the maintenance is conducted on the water system.
Sep 21, 2018
Water Distribution System Flushing
The Hamilton Department of Public Works will be flushing hydrants Monday through Thursday evenings...