Mission Statement
The Hamilton Wenham Recreation Department provides a wide variety of programs designed to improve the quality of life for residents by meeting physical and recreational needs.  We promote life long lessons through play, education and community wide events.
Veterans Memorial Pool Ribbon Cutting and Soft Opening
The Hamilton Wenham Recreation Board is inviting community members for a Ribbon Cutting and Soft Opening of the new pool on Sunday, June 4th at 12:30pm.  The pool will be open from 1:00pm – 6:00pm for all membership holders.  Memberships will be available for purchase on the day of the opening at the pool.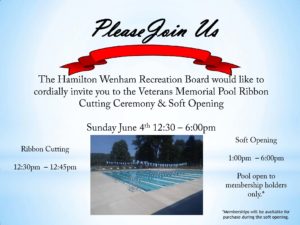 2017 Spring Summer Brochure