Trash, Organics, Recycling and Yard Waste Disposal Information
Overview
This page lists documents pertaining to trash, organics, recycling and yard waste disposal information.
If you are experiencing any issues with your trash, recycling or compost call Casella direct at 978-548-4427.
Please note: If there is a holiday during the week, trash will be delayed one day. 
E-Waste day is the 3rd Saturday of the month (date subject to change) in the DPW Yard behind Town Hall 8:00 a.m. to Noon. (severe weather permitting)   Checks Only  
What do I do with???: Electronic waste, metal , misc items and household hazardous waste. 
Trash, Organics, and Recycling Calendar 2018 revised
Town of Hamilton Pick-Up Street Schedule
Trash, Organics and Recycling Report 2015-2018
Household Hazardous Waste Day: Saturday, September 22, 2018 9:00 a.m. to noon in the DPW Yard behind Town Hall
A $15.00 Bulk Sticker fee (per item) applies to all bulky items. Stickers can be purchased at Town Hall in the DPW office, (checks only) Crosby's Market and at Cumberland Farms. You may dispose of one bulky item per week with your regular trash disposal  . Acceptable bulky items include a couch, sofa, chair, mattress, box spring, non metal furniture, or non pressure treated wood or carpet. Wood and or carpet must be cut to less than 3 foot lengths be tied as a bundle and cannot weigh more than 50 lbs.
EXCESS TRASH:
Blue bags can be purchased at Crosby's, Aubuchon Hardware, Cumberland Farms and Hamilton Convenience.
33 gallon bag $2.50 per bag sleeve of 5 for $12.50
15 gallon bag $1.50 per bag sleeve of 5 for $7.50
TEXTILE RECYCLING:
Simple Recycling -Clothing, Shoes, and Accessories 
Please have clothing, shoes and accessories in pink bags curbside by 7:00 a.m. on your designated trash day. Simple Recycling is a private (for profit) organization and is not affiliated with Casella (our trash contractor). 
Questions or concerns should be directed to Simple Recycling at 866-835-5068.
Yard Waste Information
 Brush/Yard Waste Drop-off at Landfill
The Landfill on Chebacco Road is open on the last Wednesday of the month between April and October from 7:30 a.m. until 2:30 p.m. to accept branches, brush, grass clippings from residents only (no commercial contractors). The landfill is open to all non-commercial Hamilton residents. Proof of residency will be required by showing a valid drivers license to the attendant.
Accepted Items:
Brush and branches up to 5 inches in diameter, lawn clippings, mulch or compost materials. Materials must be separated and thrown into different piles at the landfill.
NO LEAVES OR STONES WILL BE ACCEPTED.
The landfill is NOT open while there is snow on the ground.
Yard Waste Drop off at Brick Ends Farm
Brick Ends Farm located at 464 Highland St in Hamilton accepts, branches, brush, grass clippings and leaves. The disposal of grass clippings and leaves are free of charge. There is a fee for the disposal of branches and brush. Please call Brick Ends for more information at (978) 468-3131.
Brick Ends hours are: Monday-Friday from 7 a.m. to 4:00 p.m. Saturday 8:00 a.m. til noon.
Curbside Leaf Pick-up
The Town picks up leaves curbside three times a year. The dates for 2018 are May 12, November 17, and December 8th . Please have leaves in brown leaf bags or trash cans curbside by 7:00 a.m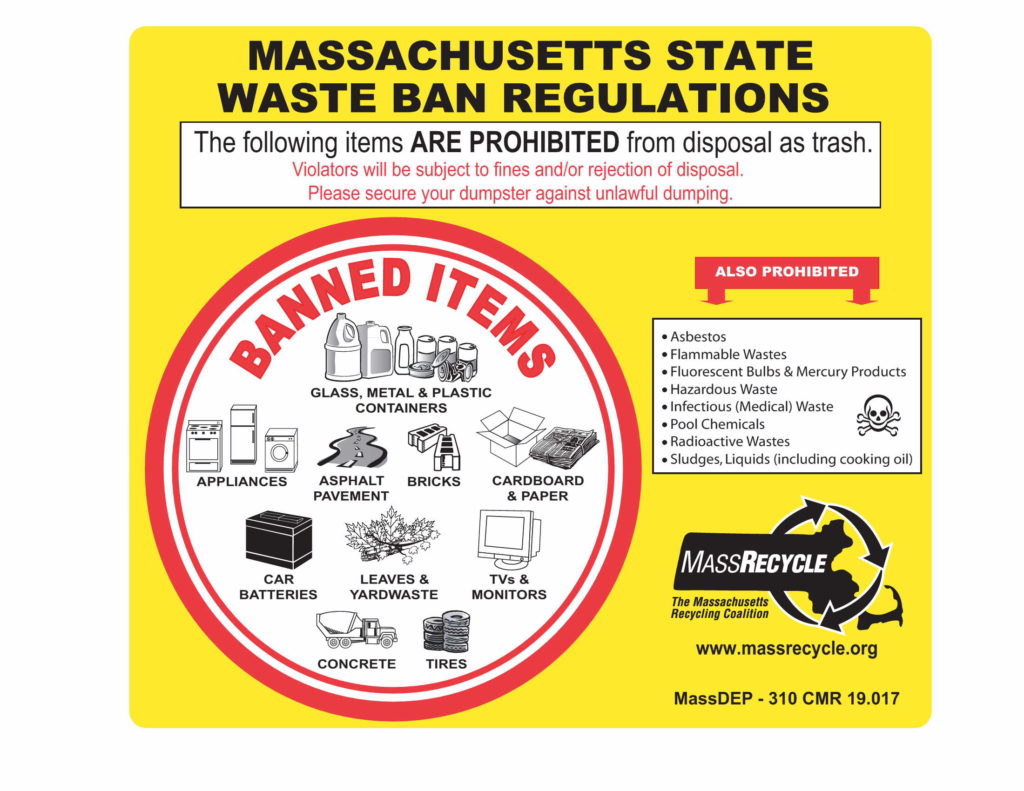 Household Hazardous Waste
What if I am moving and can not wait for the next drop-off collection date? What are my options?
For a fee, Clean Harbors Inc., will dispose of your hazardous materials at their Braintree Plant, 1 Hill Ave, Braintree, MA (Drop-off Only).
You may also engage a private hauler, contact the Georgetown Transfer Station (Mello) at (978) 352-9948 to determine which items they accept for disposal.