2018 Spring/Summer Brochure
The 2018 Spring/Summer Brochure is now available.  Click here to download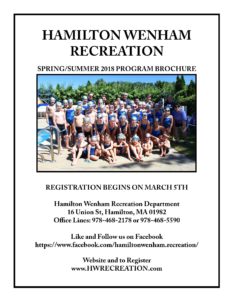 Updated Hours This Week
Wednesday, February 21st, 8:00am – 1:00pm
Thursday, February 22nd, 8:00am – 1:00pm
Friday, February 23rd, 8:00am – 1:00pm
Summer Employment
We are currently accepting applications for following 2018 Summer Positions (Applicants must be at least 16 years old at time of employment):
Veterans Memorial Pool
Patton Park Summer Park Program 
If you are interested in a position with our department this summer please fill out a Employment Application and return to the Recreation Department Office.  Applications will be accepted until March 9th, 2018.
2018 Winter Brochure
The 2018 Winter Brochure is available for download by clicking the image below.  Registration begins on December 1st.
Registrations can be made at www.hwrecreation.com