Eastern Essex Regional Public Health Coalition:

Mass 211
government benefits and services, nonprofit organizations, support groups, volunteer opportunities, donation programs, and other local resources
Available 24 hours a day, 7 days a week, Mass 211 is an easy way to find or give help in your community
---

Suicide Crisis and Lifeline:
(formally known as the National Suicide Prevention Lifeline)
---
Addiction:
---
Educational:
SCHOOL DISTRICTS
Hamilton-Wenham Regional School District
5 School St.
Wenham MA 01984
978-468-5310
https://www.hwschools.net/
Manchester Essex Regional School District
36 Lincoln Street
Manchester, MA 01944
(978) 526-4919
https://www.mersd.org/
Rockport Public School District
24 Jerden's Lane
Rockport, MA 01966
(978) 546-1200
https://www.rpk12.org/
COORDINATED FAMILY AND COMMUNITY ENGAGEMENT
(CFCE) birth – age 6
Pathways for Children
Rockport
www.pw4c.org
978-281-2400 x5320
Amy Larson

[email protected]

Early Childhood Partners
Hamilton, Wenham, Essex
www.EarlyChildhoodPartners.com
978-468-5489
EARLY INTERVENTION
CONTINUING EDUCATION
Northeast Arc Early Intervention
Hamilton, Wenham, Essex, Rockport
https://ne-arc.org/services/early-intervention/
978-921-1182
North School Community College

Ferncroft Road, Danvers, MA 01923

Salem State University

352 Lafayette St

Salem, MA 01970

www.salemstate.edu
---
Food:
---
LGBTQ+:
LGBTQ+
North Shore Alliance of Gay Lesbian Bisexual and Transgender Youth
2 East India Sq, Suite 212
Salem, MA
Phone: 978-224-2102
Website: http://www.nagly.org

The Trevor Project
---
Mental Health:
MENTAL HEALTH
Eliot Community Behavioral Health Centers
10 Harbor St, Danvers
888-769-5201
Department of Mental Health
45 Congress Street, Suite 4120 Salem
617-626-8000
National Alliance on Mental Illness (NAMI)
1-800-NAMI (6264)
www.nami.org
SUICIDE PREVENTION
Suicide Crisis and Lifeline:
(formally known as the National Suicide Prevention Lifeline)
988
Samaritans 24-hr hotline
877-870-4673
Samariteen 24-hr hotline (for teens)
3pm-9pm speak with a teen
9pm-3pm speak with an adult
800-252-TEEN (8336)
COUNSELING
Beth Israel Lahey Behavioral Health Services
800 Cummings Center
Suite 266-T
Beverly, MA 01915
978-921-1190
https://www.bilhbehavioral.org/services/outpatient-programs/
Children's Friend and Family Services
Blackburn Center 3 & 4, Second Floor, Gloucester, MA 01930
(978) 283-7198
https://jri.org/services/community/childrens-friend-and-family-services
Eliot Community Human Services
10 Harbor Street
Danvers, MA 01923
(978) 619-6850
https://www.eliotchs.org/behavioral-health-clinics/
Navigator
Search engine to locate a therapist
781-540-3329, M-F
Assistance in locating outpatient mental health for adults and youth
Private Practice Colloquium*
www.Privatepracticecolloquium.com
Search engine to help locate a therapist
Therapy Matcher*
www.therapymatcher.com
Search engine to help locate a therapist
---
Domestic Violence & Rape Crisis:
---
Senior Services:
---
Recreational Resources:
Manchester Parks and Recreation (open to Essex youth) https://manchesterma.myrec.com/info/default.aspx
Hamilton Wenham Recreation Department https://hamiltonwenhamma.myrec.com/info/default.aspx
North Shore YMCA https://www.northshoreymca.org/
Essex County Trail Association https://www.ectaonline.org/
Trustees of the Reservation https://thetrustees.org/
Essex County Greenbelt https://ecga.org/
Mass Audubon https://www.massaudubon.org/
Manchester Essex Conservation Trust https://www.mect.org/
---
Cultural Resources:
Essex Shipbuilding Museum https://www.essexshipbuilding.org/
Wenham Museum https://www.wenhammuseum.org/
---
Additional Supports:


Disability Resource Center https://disabilityrc.org/
The Disability Resource Center's Yellow Pages is a compilation of local, statewide, and national resources that citizens living with disabilities my find helpful for increased access to full participation in community living. Access The Yellow Pages here: https://disabilityrc.org/il-resources/yellow-pages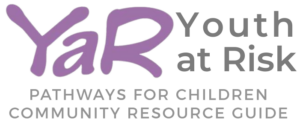 Youth at Risk Community Resource Guide www.yarguide.com
Youth at Risk (YAR) is a collaborative project with support from organizations and individuals in Essex County, Massachusetts under the leadership of Pathways for Children. Our mission is to support communities of professionals serving children, youth and families, and to provide them with affordable continuing education, collaborative networking, and self-care opportunities.


Massachusetts Commission for Grandparents Raising Grandchildren https://massgrg.com/massgrg_2019/index.html
*Listed as a tool. Private sites.